J.E. Weatherly
J.E. Weatherly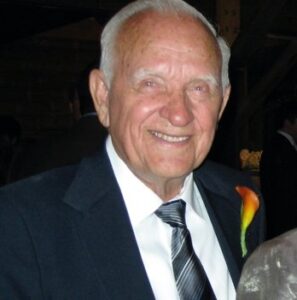 J.E. Weatherly passed away peacefully on September 20, 2022 after a battle with dementia
J.E. was born on July 16, 1931 in Haleyville, AL to Jesse and Ida Weatherly.  He had 11 brothers and sisters. They were a devoted and very close family who would do anything for each other.
J.E. served his country with the United States Air Force where he served for 4 years.  He deployed with the 811th Supply Squadron to Korea during the Korean conflict.   J.E. received the Korean Service Medal, National Defense Service Medal, United Nations Service Medal and Good Conduct Medal.
After serving in the military,  J.E. worked many years in sales and eventually retired from Sears, Roebuck and Co. after over 30 years of employment with them.
J.E. is survived by daughters Debbie Myles and Sandy Gosdin (Brad), his brother Bill Weatherly (Bernice), grandchildren Matt Myles (Heather), Chris Myles (Samantha), Will Gosdin (Jess), Abby Bennett (Will), Daniel Gosdin (Leah) and great grandchildren McKenzie, Marlo, Collin, Merritt and Luke. In addition, he is survived by many nieces and nephews, and great nieces and nephews as well as his many friends at The Oaks where he spent the last 5 years.
He had a smile for everyone and his eyes lit up a room. Many people felt his love and compassion and his family has enjoyed hearing many stories of ways in which he touched their lives.
A private burial will be held at the Alabama National Cemetery. In lieu of flowers, memorials may be made to Riverchase Presbyterian Church, 600 Riverchase Pkwy W, Birmingham, AL 35244.