Glenn Ettice Slaughter Wilson
Glenn Ettice Slaughter Wilson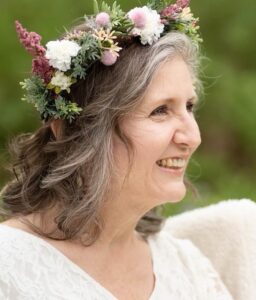 Glenn Ettice Slaughter Wilson was born to Dr. Thomas Samuel Slaughter II and Sarah Delilah King Slaughter on August 16, 1964. The sixth of what would eventually become seven children, Ettice learned the importance of family and putting others before herself at a young age.
She attended Shelby County High School, where her love of the arts was cultivated through the marching band–for which she played trombone and performed as a majorette–and through her role as Gertie Cummings in the school's theatrical production of "Oklahoma." She never forgot Gertie's signature laugh.
Ettice earned her AS in Computer and Information Science from Central Alabama Community College and worked for the American Heart Association until 1991. She then served on staff at Central Alabama Community College, then as an IT instructor at J.R. Pitard Area Trade School before eventually earning a position at AIDT. During her tenure there, she earned her BBA in Human Resources Management from Athens State University. She invested 20 years into building meaningful relationships with her colleagues at AIDT and was known as "Fireball" by those ride-or-die friends and coworkers nearest her.
Ettice found peace while surrounded by loved ones on July 30, 2022. She was preceded in death by her father, mother, and sister, Karen Karmel "Kay Kay" Slaughter. She is survived by three children from her marriage to Ray Eric Wilson: James Michael (Chelsey) Wilson, Erica Wilson (Rusty) Roberts, and Jacqueline Rachel Wilson; her four grandchildren: Natalie Morgan Wilson, Eli James Wilson, Abigail Rose Roberts, and William Ray Roberts; her siblings: Tami Slaughter, Kenya Walker, Thomas S. (Linda) Slaughter III, Claude (Sarah) Slaughter, and John Mack (Ginger) Slaughter; and many much-loved nieces and nephews, cousins and friends.
A special thank you to her brother, Tom, and to Dr. Joanne Rossman and the kind staff at Alabama Oncology for being a positive force in her medical treatment over these last two years.
Always an otter at heart, Ettice wished to leave her loved ones with these final words, "Live life to the fullest and experience as much joy as you can. I'll see y'all on the flipside."
A celebration honoring Ettice's life will be held at The Barn at American Village in Montevallo, AL on August 5, 2022, from 4-8 PM. In lieu of flowers, please consider donating to the Ovarian Cancer Research Alliance.